AUTO ACCIDENTS & PERSONAL INJURY
(ALL CASES HANDLED ON A NO RECOVERY, NO FEE BASIS)*

RESULTS MATTER.

More than 30 years of experience obtaining exceptional results for injured clients all over Pennsylvania.

Serious Auto Accidents
Death Cases
Slip-and-Fall and Trip-and-Fall Accidents (must be dangerous condition)
Vicious Dog Attacks
Hunting Accidents
Defective Product Cases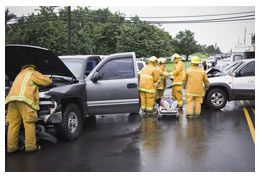 If you're seriously injured, insurance companies don't want you to consult an attorney. That's because they have one main objective: To pay you as little compensation for your injuries as possible. They also want you to settle quickly, releasing your future rights so that if your injuries turn out to be worse than they may seem in the beginning, you can't come back for additional compensation later.

That's why you need to get experienced legal advice and representation as soon as possible after a serious accident. And why our 30-plus years of experience matters.
One thing we know from experience: People who settle their own serious injury cases without experienced legal representation almost always end up with far less money than those who hire an experienced personal injury attorney, even after deducting legal fees and expenses when the case is over!

Our office has handled countless serious injury cases over the years where the insurance company's first offer ended up being a small fraction of what we were ultimately able to get for our clients.

ALL of our personal injury cases are handled on a NO RECOVERY - NO FEE BASIS, with a free initial consultation. In other words, you risk nothing by coming to see us to evaluate your case, and you'll pay no legal fees until your case has resulted in a successful verdict or settlement.*
Since we offer a free, no-obligation consultation for all injury cases, it costs you nothing to come in (or call) to discuss your case.

WE PARTNER WITH THE BEST…

If yours is a case we can't handle ourselves, or if we think another firm can better handle it, we partner with some of the best personal injury attorneys in Pennsylvania. We can also refer you to highly-qualified attorneys in other states as well. Don't choose a lawyer based on TV commercials, billboards, signs on the side of buses, or who has the splashiest website or the biggest Yellow Pages ad! We know who the best lawyers in every specialty are, and we're happy to refer you to them based on the specific kind of case you have (again with no advance fees charged).

MEDICAL MALPRACTICE CASES, UNSAFE DRUG AND MEDICAL DEVICE CASES & NURSING HOME NEGLECT/ABUSE CASES:

While we don't handle these cases directly, CALL US FIRST ANYWAY! We can refer you to some of the best attorneys in Pennsylvania (or elsewhere) who specialize in these kinds of cases.


Call us at (610) 873-1600


* Our office will advance all case expenses, such as for medical records, experts, depositions, trial exhibits, etc. After a successful recovery, these costs are reimbursed out of the client's share of the settlement or court award, as is customary among personal injury attorneys.