PRENUPTIAL & DOMESTIC PARTNERSHIP AGREEMENTS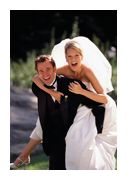 We'd all like to think that marriage (and other relationships) will last forever. Yet statistics tell us that almost half of all marriages end in divorce.

For this reason, more and more Americans are opting to have prenuptial agreements drawn up so that if a marriage does end in divorce, they can at least be assured that their assets are protected from the uncertainty of property division in divorce proceedings.

Though by no means limited to it, prenuptial agreements are especially popular in the case of second marriages, when there are children from a prior relationship whose interests need to be protected, or where one or both of the parties have significant assets prior to the marriage that they don't want to place at risk.

Prenuptial agreements can accomplish such critical tasks as:


Protecting assets owned before the marriage from getting lost or split up in a divorce
Deciding ahead of time how assets acquired during the marriage will be divided in the event of divorce
Protecting children (and other loved ones) from losing their inheritance in the event of divorce or death of a spouse
Avoiding long, expensive and ugly divorce proceedings by providing ahead of time for how assets would be divided in the event of a divorce
Allowing unmarried couples to divide up assets and resolve their financial entanglements without having to resort to expensive and stressful litigation.
When it comes to prenuptial agreements, having a trained, experienced attorney on the job is critical to negotiating and creating a contract that will be upheld by the courts in the event that it is challenged. Like other important legal documents, trying to get by with do-it-yourself or computer-generated documents could result in failure of the document and an expensive mess!

IMPORTANT NOTE: If you are contemplating getting a prenuptial agreement drawn up, it is critical that you DON'T WAIT UNTIL RIGHT BEFORE THE WEDDING TO CONTACT US! Prenuptial agreements take time to work out, negotiate, draw up, and have reviewed by independent counsel for the other partner. The closer the signing is to the wedding date, the greater the chance that the other spouse can claim duress and try to have the agreement invalidated by the courts at a later date.

CALL US AT (610) 873-1600